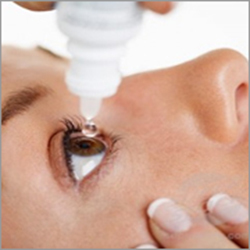 Product Description
We are efficiently meeting the requirements of numerous customers across the nation by offering Ear Eye - Drops. These drops are formulated in compliance with set safety norms using best quality compounds. The drops are used to relieve dry, irritated eyes. Common causes for dry eyes include wind, sun, air conditioning, computer use,reading and certain medications. To ensure easy and safe transportation, we pack these Ear Eye - Drops in moisture proof materials. We offer these drops at affordable prices to clients.
Features:
Easy to use
Longer shelf life
Accurate composition
Ear Eye / Drops
Olopatadine
Azithromycin + Dexamethasone Eye Drops
Bimatoprost + Timolol (as HCI)
Bromfenac Eye Drops
Carboxy Methyl Cellulose
Ciprofloxacin Hydrochloride
Ciprofloxacin & Dexamethasone
CMC Sodium + Glycerin
Dexamethasone Gentamicin (as Su1p.)
Dexamethasone Tobramycin
Diclofenac Sodium + Gentamicin Sodium
Fluorometholne Tobramycin
Fluorometholone + Neomycin Suspension + BKCL
Flurbiprofen Sodium
Fluromethalone
Flurometholone + Gentamicin (as sulphate) Eye Drops
Chloride Opthalmic Suspension
HPMC + Dexlran + Glycerin Eye Drops
Hydroxy Propy Methyl Cellulose
Ketorolac Tromethamine IP + Olopatadine HCI
Ketorolac
Latanoprost + Timolol Maleate eq. to Timolol
Levofloxacin + Prednisolone Acetate Eye Drops
Loteprednol + Moxifloxacin
Lotepreadol Etabonate + Tobramycin
Ophthalmic Solution
Loteprednol Etabonate + Levofloxacin Eye Drops
Loteprednol Etabonate Ophthalmic Solution
Moxifloxacin
Moxifloxacin + Prednisolone
Moxifloxacin & Dexamethasone Sodium Phosphate
Moxifloxacin & Ketorolac Tromethamine
Moxifloxacin HCI IP + Bromfenac
Natamycin
Nepafenac
Norfloxacin & Dexamethasone Sodium Phosphate
Norfloxacin Eye/Ear Drops
Ofloxacin + Dexamethasone
Ofloxacin + Ketorolac
Ofloxacin
Palyethylin Glycol + Propylene Glycol
Polyvinyl Alcohol + Benzalkonium Chloride
Opthalmic Solution
Polyvinyl Alcohol & Povidone
Prednisolone Acetate
Sodium Cromoglycate
Timolol Melate (as base) + Pilocarpine HCI
Timolol Maleate Eye Drops
Tobramycin + BKC
Tobramycin + Fluorometholone Eye Drops
Tobramycin Sulfate
Travoprost + Timolol (as maleate) Eye Drops
Tropicamide U.S.P. Phenylephrine Hydrochloride I.P.
Other Products in ' Third Party Manufacturer for Eye Drops in Himachal,India' category